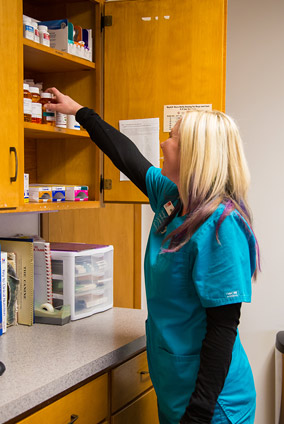 In-House Veterinary Pharmacy
Should your pet require any prescription medication, Animal Medical Center of Jefferson City hosts an in-house veterinary pharmacy to ensure prescriptions are filled correctly—in the right form and in the right dose—as quickly and conveniently as possible. After filling a prescription, you'll leave the office with detailed instructions on proper dosage as well as an understanding of what the medicine is treating and any side effects or interactions it may cause. When it comes to the special medications for pets, no regular pharmacy can guarantee the same level of service.
For your convenience, we maintain a wide variety of pharmaceuticals, vitamins, shampoos, flea and tick control products and heartworm preventatives to meet the needs of your pet. We also carry Hills Science Diet, Hills Prescription Diets and Royal Canin Veterinary Diets.
Prescription refills are easy, too – just give us a call at (573) 636-4626 or fill out the online refill-request form on this website.
Microchipping Your Jefferson City Pet
A lost pet is a frightening and stressful situation faced by families and pets across the country. By microchipping your pet, you can feel more at ease knowing he or she at least has a permanent form of pet identification and a greater chance of being returned to you.
Studies have shown more than 10 million pets get lost each year and approximately 90 percent of those found would not have been returned to their owner if they hadn't had some form of permanent pet identification. At Animal Medical Center of Jefferson City, we consider microchip pet IDs a fundamental part of protecting your pet. With a microchip, your pet can be identified quickly and easily by animal control officers, shelters or at veterinary hospitals around the world. The entire implant procedure takes less than 10 seconds.
We use the AVID FriendChip microchip system. Each microchip registers the animal with a unique identification number, which is filed in a database with your contact information. It is important and easy to update this information whenever your phone number or address changes.
Treatment Referrals
If a particular case requires unusual or advanced care, we may refer you to a veterinary specialist. We work closely with many doctors at the University of Missouri Veterinary Health Center. Your veterinarian will discuss the referral process with you to ensure your pet receives the care he or she requires.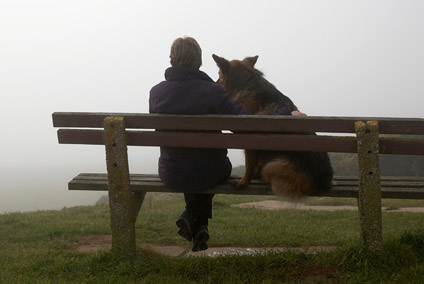 End-of-Life Services
The team at Animal Medical Center of Jefferson City understands that the passing of a beloved pet is similar to—if not the same as—losing a member of your non-furry family. To help ease the burden of saying goodbye and the confusion of knowing what to do after a pet has died, we offer cremation services to clients. We encourage you to speak with your veterinarian and include your end-of-life wishes as part of your pet's medical record. Taking the time to plan, as challenging as it may be, will lessen the pain and stress for you and your pet when the end is near.
If you would like more information about the pet-care services that Animal Medical Center of Jefferson City offers or to schedule an appointment, please give us a call at (573) 636-4626.