Jefferson City Pet Wellness Services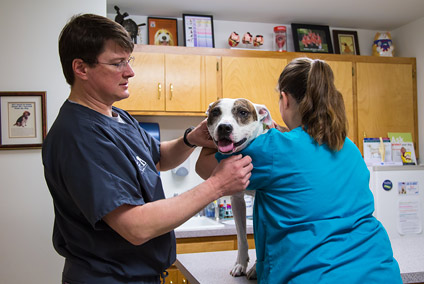 Wellness Care for Every Age and Stage
The veterinarians and medical staff at Animal Medical Center of Jefferson City care for pets of all ages and stages. Whether you're a new pet parent of a cuddly kitten or puppy or you've shared your life with a senior pet for more than a decade, your veterinarian will want to know about your pet's lifestyle and routine as part of his or her annual wellness examination—including your pet's regular daily behavior, diet, water intake and exercise routine.
If your pet is seven years of age or older, some common questions may include:
Is your pet maintaining normal eating, drinking and elimination habits?
Does your pet have trouble getting up in the morning?
Does your pet ever show signs of weakness or unbalance?
Does your pet show an unwillingness to exercise?
Your veterinarian may also ask about your pet's risk of exposure to fleas, ticks, heartworms and intestinal parasites. After taking everything into consideration, you and your veterinarian will develop an individualized treatment and/or preventive plan to address these issues.
Nose-to-Tail Wellness Examinations
Wellness examinations are the same for your pet as the yearly physical you receive from your doctor. It's a chance for us to assess your pet's overall health, discuss any changes we see, answer any questions you have, and update you on advancements in veterinary care. During your pet's comprehensive examination, we will check your pet's ears, eyes, teeth, gums and skin, as well as the functioning of his or her bodily systems, such as the digestive, circulatory, muscular/skeletal, respiratory, neural, genitourinary and lymphatic systems.
At Animal Medical Center of Jefferson City, appointments are never rushed. We take the time to get to know your pet and you. Wellness examinations are an opportunity for us to listen to you and your concerns, answer your questions and thoroughly examine your cherished friend.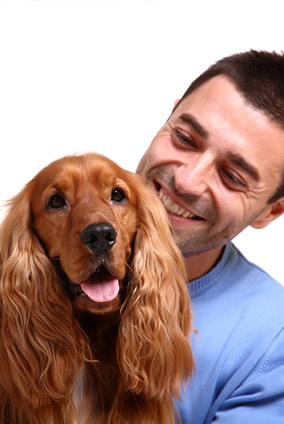 Preventive Medicine is the Best Medicine
Seeing your pet sick is never a pleasant experience and it often leads to feelings of guilt. The best way to ensure that your pet is well and lives a long life is to promote a healthy lifestyle and be proactive in his or her preventive care.
The veterinary team at Animal Medical Center of Jefferson City believes that prevention is a positive contribution to your pet's long-term health and also minimizes the lifetime cost of veterinary care. To keep your pet in optimum health, we strongly encourage that your pet receive annual wellness examinations that include vaccinations, heartworm and internal parasite testing, and regular laboratory work. In mid-Missouri, we have most parasites known to veterinary medicine. Therefore, we recommend year-round medications to prevent heartworms as well as fleas and ticks.
Exotic Animal Care for Jefferson City Pets
We offer Jefferson City pet-wellness care for birds, reptiles, and small mammals including ferrets, rabbits, guinea pigs and more. Dr. Terry has a passion for treating exotic pets, and has many years of experience behind her.
Exotic animals typically conceal their illnesses in the wild in order to survive attacks from their predators. As a result, their medical problems often go unnoticed for long periods of time. Once you recognize that there is a problem with your exotic pet, the condition is often extremely serious. This is why we suggest medical examinations every 6 months for your exotic pet by a veterinarian who can recognize problems early and often diagnose before they become more serious or life-threatening.
After acquiring your new exotic pet, a complete pet wellness appointment is strongly recommended. This exam includes a thorough physical examination, nutritional consultation, disease screening and laboratory testing if necessary. Before bringing your pet into your home, you want to make sure that he or she is healthy.
Please be aware that Animal Medical Center of Jefferson City does not treat primates or venomous animals.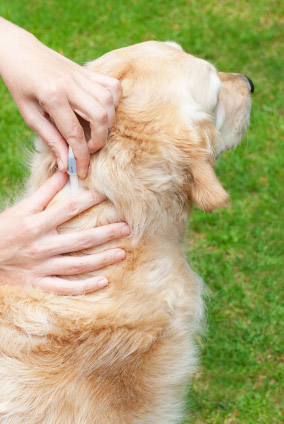 Flea, Tick, and Parasite Prevention
Like most pet owners, you probably enjoy spending quality time with your pets both indoors and out. Unintentionally, you may place them at risk for unwelcome visits from pesky parasites like fleas and ticks. Both external (fleas, ticks) and internal (heartworm, hookworm, roundworm) parasites can cause problems for both your pet and your family.
Pets in Jefferson City are at increased risk for tick-borne diseases and bacterial infections such as Rocky Mountain Spotted Fever and Ehrlichiosis. Rocky Mountain Spotted Fever is one of the most commonly known tick-borne diseases to affect dogs and humans. Purebred dogs and German Shepherds are known to experience the most severe reaction when bit by a tick carrying the bacteria. In addition to developing a fever within five days of being bit, other symptoms include:
Weight loss
Depression
Lethargy
Bloody urine
Discolored spots on skin (often purplish/bruised in color)
Loss of coordination
Swelling in the limbs
Pain and inflammation in the eyes
Rocky Mountain Spotted Fever is a serious condition and can be fatal if not treated properly. Pets infected with Ehrlichiosis may display similar symptoms and also require treatment, typically with antibiotics.
Another serious concern in the Jefferson City area is heartworm disease, which is spread by mosquitoes. Fortunately, preventive medications exist to prevent heartworm disease in your cherished companion. The veterinarians at Animal Medical Center of Jefferson City recommend administering preventive medication once-a-month, all year long.
Prevention is the best approach to eliminating all of these pests. Please ask a staff member at Animal Medical Center of Jefferson City for the best way to prevent parasite problems in your pet. We carry a wide range of internal and external parasite prevention products that we will recommend based on your pet's lifestyle and environment.
"Products that prevent against parasites are the most important development in preventive veterinary medicine since vaccines," Dr. Boyer says. Ticks are most prevalent in the spring and early summer but can be present-year round and transmit diseases. Fleas are particularly prevalent in the fall, but also present a year-round threat to pets. Heartworm and internal parasites pose a threat to your pet throughout the year.
Animal Medical Center of Jefferson City believes in using products that provide the most complete protection to the hospital's patients. Because parasite sensitivities evolve over time and newer preventive products are developed regularly, we recommend that you keep your pet up-to-date with the latest preventive care that veterinary medicine has to offer. Speak with your veterinarian to learn more about the latest product information.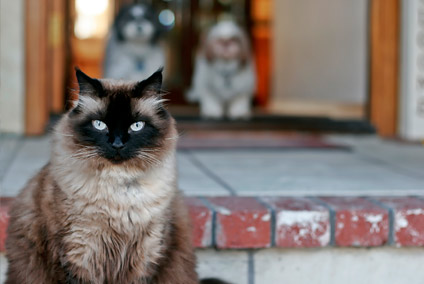 Pet Vaccinations
The veterinarians and staff at Animal Medical Center of Jefferson City are strong advocates of preventive care. To offer your pet optimal care and a long, healthy life, we believe it is important to identify problems before they become serious medical issues.
With a variety of infectious diseases and parasites present in the state of Missouri—such as rabies, leptospirosis and kennel cough—vaccinations are the number one way you can protect your beloved pet from serious health threats. Your veterinarian can create an individual immunization program for your pet based on his or her lifestyle and your local conditions. New diseases emerge constantly and recommendations are updated according to current risks.
Essential Vaccines for Your Dog
Distemper Vaccine (DHLPP): This combination vaccine protects against five diseases: Distemper, Hepatitis, Leptospirosis, Parainfluenza, and Parvovirus.
Rabies: Rabies virus is fatal and all warm-blooded animals (including humans) are susceptible to infection. Most counties and cities, including our own, require rabies vaccinations by law.
Other Vaccines for Dogs
Bordetella ("Kennel Cough"): The bordetella bacteria causes an extremely contagious upper respiratory infection. Your veterinarian may recommend this vaccine before your dog attends a doggy daycare program, boarding facility, dog show or grooming.
Canine Influenza (CIV): This is a highly contagious respiratory infection—resulting from one of two strains of dog-flu virus—is passed between dogs, with such symptoms as a soft and moist cough, lethargy, high clinical fevers and eye/nose discharges. Outbreaks of this disease rapidly spread throughout communities.
Essential Vaccines for Your Cat
Feline Viral Rhinotracheitis, Calicivirus and Panleukopenia (FVRCP): Commonly referred to as a "distemper vaccine," this combination vaccine protects against highly contagious diseases—feline viral rhinotracheitis, calicivirus and panleukopenia.
Rabies: A viral disease that affects the brain and spinal cords of all mammals (including humans). Often transmitted through bites, symptoms of feline rabies include changes in behavior (aggression, restlessness and lethargy), loss of appetite, weakness, disorientation and seizures. Most counties and cities require rabies vaccinations by law.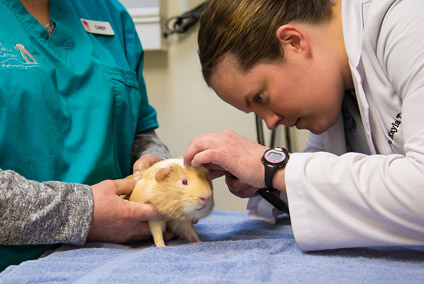 Other Vaccines for Cats
Feline Leukemia (FeLV): Common in mid-Missouri, FeLV is a viral infection transmitted from one cat to another through close contact. This vaccine is highly recommended for cats that go outdoors or live in multi-cat households.
Puppy and Kitten Care
Bringing home a new little ball of love is an exciting time for pet owners, whether it's your first or tenth new pet! By purchasing, adopting, or rescuing a puppy or kitten, you have taken on the responsibility of providing it with the care it needs to live a long, happy and healthy life. This stage in your pet's life is often a time when you will have many questions about your new pet's care. We are here to support you with exceptional pet care and guidance. All of us at Animal Medical Center of Jefferson City share your joy in welcoming this new family member into your life.
During your first visit, you, your pet and your veterinarian will have the opportunity to meet and get acquainted. This time is well spent and offers you a chance to ask questions. A veterinarian will help allay any concerns or anxieties you may have about owning a puppy or kitten. This is a special time for you and your pet and we want your memories to be cherished and worry-free.
Just like health care for humans, veterinary medical care for pets is constantly evolving and advancing. To help you navigate your way through the various stages of care necessary to keep your beloved companion healthy, Animal Medical Center of Jefferson City doctors and staff provide comprehensive veterinary care at an affordable price.
Care for a new puppy or kitten will include:
Comprehensive wellness examinations
A series of needed vaccines
Discussion on options for parasite prevention, spaying/neutering and microchipping
Guidance with nutrition and diet as well as training and behavioral counseling
It is important to all of us at Animal Medical Center of Jefferson City that your puppy or kitten start off on the right paw and enjoy a healthy and happy life.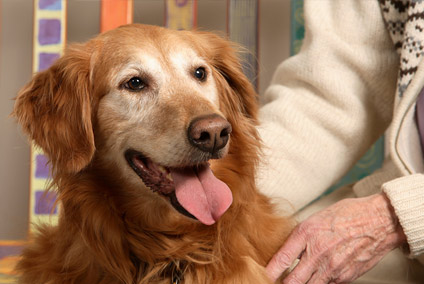 Jefferson City Senior-Pet Care
Whether your pet is new to your home or a longtime family member, older pets make wonderful companions. Thanks to advances in veterinary medicine, pets are living longer than ever. With that in mind it's important to remember that your senior pet has medical needs that are very different from puppies and kittens. The veterinarians and medical team at Animal Medical Center of Jefferson City will work with you to develop a health care plan that ensures your pet is safe and happy throughout his or her golden years.
Prevention is the key to keeping pets older than seven years healthy. Symptoms of arthritis, periodontal disease, kidney failure or cancer are often mistaken for signs of aging.
You are an important ally in keeping your senior pet healthy! If your pet is experiencing any changes in behavior, we urge you to bring him or her in for a check-up. We always strive to ensure that you and your faithful companion enjoy many years together.
OFA Certification
If you own a larger breed dog or are looking for one, you should consider whether the dog is OFA Certified. The Orthopedic Foundation for Animals is the recognized certifying body that evaluates and determines if a dog is demonstrating radiologic evidence of hip dysplasia—a genetic malformation of the hip joint.
Hip dysplasia is a progressive condition causing pain and discomfort. A veterinarian will carefully evaluate your dog's hip joints and look for indicators of potential problems. There are several different methods to treat hip dysplasia depending on the age of the dog and the severity of the problem. If you are concerned, please call the office to schedule a consultation with one of the veterinarians.
Because hip dysplasia results from a combination of inherited and environmental factors, Animal Medical Center of Jefferson City recommends that dogs that show radiographic evidence of hip dysplasia should not be bred.
For more information or to schedule your pet's next wellness appointment, please contact Animal Medical Center of Jefferson City today at (573) 636-4626.