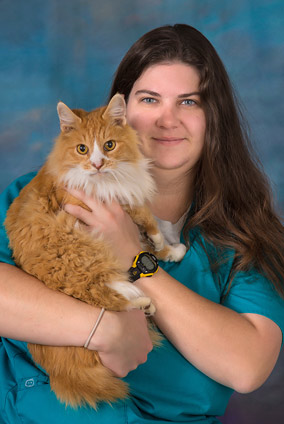 Ashley Mueller, Veterinary Assistant
Ashley joined the hospital as a veterinary assistant in October 2001, becoming full-time in May 2008. With a bachelor's degree in biological sciences from the University of Missouri, she brings her reliability and organization to the team. Her responsibilities include assisting the doctors during appointments, surgery and X-rays, as well as filling prescriptions, scheduling appointments and medicating animals.
"We are AAHA accredited, which means we go above and beyond standard care and treatment," Ashley says. "We are held to higher standards and work hard to meet those standards."
Ashley most enjoys working with the animals. She's exceptionally good with cats, and her nickname around the hospital is "The Cat Whisperer." At home, Ashley has eleven cats ranging in age from 1-10 years old. Their names are Blackie, Cinders, Dodge, Glitter, Morton, Oreo, Pixie, Trixie, Truman, Zip, and Zorro. She also has a dog named Bandit and two fish.
When she's not volunteering her time for emergency visits or playing in the Mizzou Alumni Band, Ashley enjoys watching the Tigers, Cardinals, and Chiefs, antiquing, gardening and working around the house.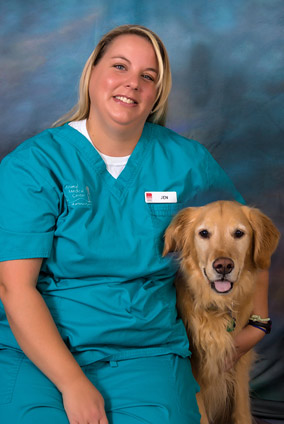 Jennifer Peters, Veterinary Assistant
Jennifer joined the medical team and brought her exceptional organizational skills to the hospital in May 1999. She previously worked as a veterinary assistant at a practice in Maryland. At the hospital, Jennifer is responsible for assisting during appointments, surgery, and dental procedures.
At home, Jennifer has a golden retriever named Miller, two pit bulls named Striker (who is high maintenance) and Snoopy, and two domestic shorthair cats named Donnie and Máirtín. Jennifer helps organize the local National Pet Week Parade. In her free time, she enjoys camping, doing puzzles, spending time with friends and family, bowling and being a part of her husband's pit crew at Motorcycle Track Days.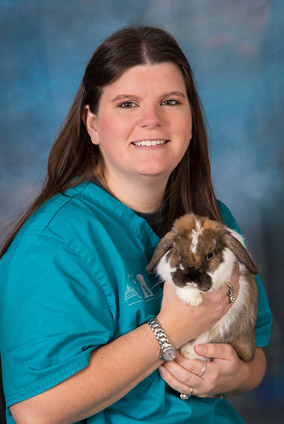 Rachel Wickers, Veterinary Assistant
Rachel has been a part of our medical team since May 2000 and has always been know for being eager to help. As a veterinary assistant, she is responsible for assisting with every aspect of animal care, as well as helping manage pet owner's questions and concerns. She also performs lab tests. Rachel's favorite part of her job is getting to work with the animals. She says, "You get to pet, cuddle, and care for them. Plus you are helping them to feel better if they are sick. That is a wonderful feeling."
She adds, "We have a great client base and I enjoy visiting with them. My coworkers make this hospital a great place to work."
At home, Rachel has four dogs named Chief, Emme, Squirt and Daisy; four cats named Kacey, Louis, Merlin and Scaredy Cat; three goats named Dirty Harry, Mamma and Baby; a donkey named Dolly; two alpacas named Wehani and Chablis; as well as several ducks, chickens, and last but not least, a peacock. In her free time, Rachel enjoys spending time with her husband and kids doing things outdoors.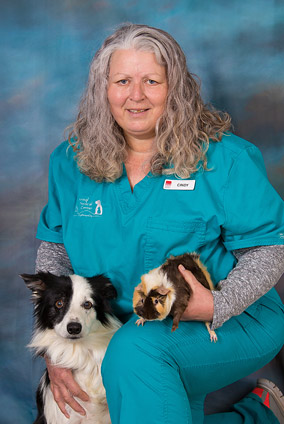 Cindy Wood, Veterinary Assistant
Cindy Wood joined the medical team in 1989. As a veterinary assistant, she is responsible for preparing surgical procedures as well as assisting the veterinarians during surgery. When she's not in the operating room, Cindy helps assist wellness examinations. Cindy is always calm, and during emergencies she's able to keep her cool while working with the hospital's patients.
Cindy lives on a farm and has two guinea pigs, a border collie, three Great Pyrenees (that serve as farm security guards), several cats, five miniature horses and several big horses. She enjoys going to horse shows with her husband and grandchildren.
In her free time, Cindy stays very busy with 4H and horsemanship groups. She enjoys giving riding lessons and hopes to one day start a therapeutic riding center. Although she loves all animals, horses have always been Cindy's passion.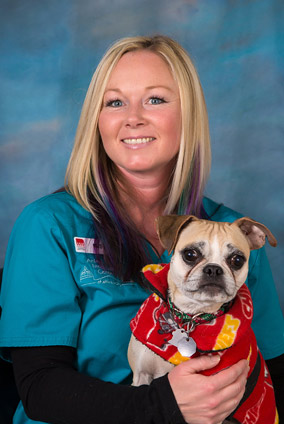 Misty Stoufer, Certified Veterinary Assistant
Misty became a part of the medical team at Animal Medical Center of Jefferson City in July 2016. She brings over 10 years of experience in the animal-care field. Misty's daily responsibilities include assisting veterinarians in appointments and surgeries, as well as checking clients in and out. She enjoys helping patients feel comfortable and less stressed while at the medical center. Misty is able to easily put pets and owners at ease with her outgoing and friendly personality.
She says, "I like working here because everyone gets along and we are always willing to help each other. Everyone cares about each other, the clients, and their pets."
At home, Misty has an 8-year-old pug named Lola, an 8-year old pug named Emmett, a 5-year-old Boston terrier/pug mix named Bugsy, and a 2-year-old English bulldog named Fiona and a cockatiel named Turkey. She enjoys reading and hanging out with her friends, family and dogs.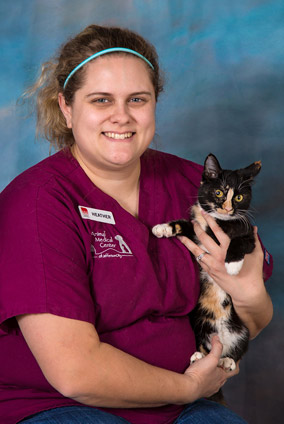 Heather Cornelison, Veterinary Assistant
Heather joined the medical team in May 2005. As a veterinary assistant, she is responsible for assisting veterinarians, working in the laboratory, handling money, answering phones and serving clients.
In addition to holding a Bachelor of Science degree in Horticulture with a minor in Animal Science, Heather has a joyous and radiant personality. She relishes spending time with the animals and her AMC family. "I love the people I work with," Heather says. "We are not just coworkers. We are family."
At home, Heather has 12 cats named Rocky, Ruger, Tigger, Bonnie, Clyde, Al Capone, George, Babyface Nelson, Betty, Charlie, Autumn, Buck and Twix. She also has two black lab mixes named Molly and Lacey, as well as a rabbit named Captain Willow Cadburry and a bearded dragon named Mr. Spike Sweaters. In her free time, Heather stays busy working on setting the Guinness World Record for largest sticker collection in the world.
Reception Staff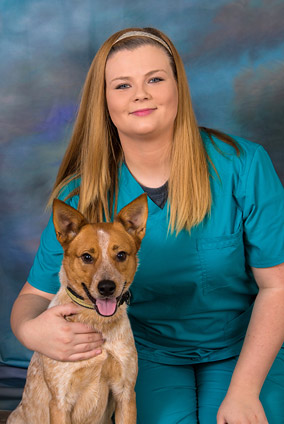 Brittany Starr, Receptionist
Brittany became a receptionist at Animal Medical Center of Jefferson City in March 2015 and brought a cheerful personality and great communications skills to the team. She is responsible for scheduling appointments, answering telephones, admitting and discharging patients, sales and filling prescriptions. Brittany also prepares urinalysis tests, fecal exams and heartworm tests. She enjoys learning new tasks—and there is always something new to learn at the hospital.
"Animal Medical Center of Jefferson City has an excellent work environment," Brittany says. "Our clients and patients are great! Getting to see a variety of dogs and kitties all day is so much fun. I have to say what makes us unique is our staff. We all get along so well; we make a terrific team. My co-workers have become some of my best friends."
At home, Brittany has a 1-year-old Parson Russell/Australian Terrier mix named Rolo, a 2-year-old beagle/Australian shepherd mix named Reese and a 3-year-old red phase Australian cattle dog named Ringo. She also has two cats named Ruger and Roxy. Brittany has three daughters and in her free time she enjoys watching their games and extracurricular activities, shopping at garage sales, going out on her boat, road tripping, listening to music and spending time with her husband, family, friends and pets.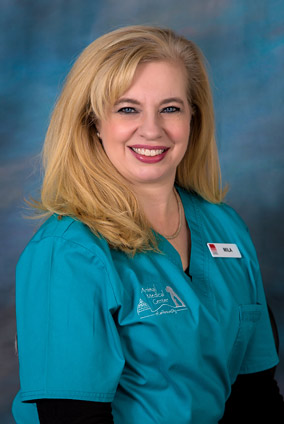 Mila Moore, Receptionist
Mila joined the Animal Medical Center of Jefferson City's reception team in October 2016. Her duties include scheduling appointments, processing prescription requests, handling client payments and maintaining the reception area at the hospital.
Providing excellent customer service to the hospital's clients is important to Mila. "I have owned two of my own businesses, so I understand the importance of quality customer service," she says. "My husband and I have been bringing our pets here since 1993. We've known the exceptional care AMC provides for 23 years, and it is an honor to now be a part of the staff."
Mila graduated from Anderson University with a bachelor degree in music business. At home, she has two cats named Asia and Chesney and a dog named Tickles.
Kennel Staff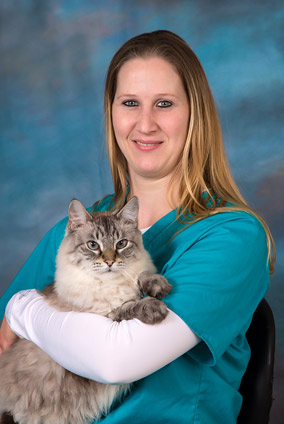 Emily Smasal, Kennel Supervisor
Emily joined the kennel team in August 2002. She holds an associate degree from State Fair Community College.
As the kennel supervisor, she is responsible for patient care—providing patients with food, water and medications—as well as cleaning cages, doing laundry, bathing, general cleaning and boarding. Emily's favorite part of the job is the constant interaction with patients and boarders. She brings a positive attitude to work each day, and no matter what the circumstance, she is always ready to work.
"I like working here because of the bonds and friendships I've formed with my coworkers, patients, clients and boarders," Emily says. "Some of us have known each other for a long time and it's great to see everyone grow and learn as an individual. I love working with animals, as it has always been a passion of mine."
At home, Emily has three domestic shorthairs: 10-year-old Jona, a 4-year-old Moses and 1-year-old Ruby, as well as a 5-year old pug named Buster. She enjoys spending time with her two children, fixing puzzles, fishing, being outdoors, hiking and walking.
Sierra Ferguson, Kennel Assistant
Sierra joined the staff at Animal Medical Center of Jefferson City in August 2014. As a kennel assistant, her responsibilities include caring for the boarding and hospital patients—providing food and water as well as cleaning their cages. Sierra is a hard worker, both at the medical center and with her studies at College of the Ozarks, where she is an animal science and pre-vet student.
"My ambition is to provide quality care for all animals at Animal Medical Center of Jefferson City," Sierra says. "I hope to be in this line of work one day."
At home, Sierra has a black lab/chow mix named Steve, a lemon basset hound named Shasta and a black terrier mix named Buddy. She enjoys reading books, watching movies and swimming.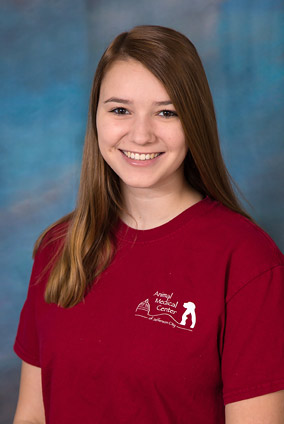 Claire Murphy, Kennel Assistant
Claire joined the kennel team at Animal Medical Center of Jefferson City in July 2013. Her responsibilities include caring for boarding animals by feeding, medicating, taking them outside and cleaning their cages. Claire likes all parts of her job, except Sunday cleanings! She has a positive attitude and strives to boost everyone's mood. She brings that same energy to the University of Missouri, where she is currently a junior and a research lab assistant.
"I really enjoy the environment and my coworkers," Claire says. "Our clinic is run very well and I love our patients."
At home, Claire has a 6-year-old teacup yorkie named Gretel and a kitten named Adidas. In her free time, she enjoys tennis, doing puzzles, watching Netflix and playing with her pets.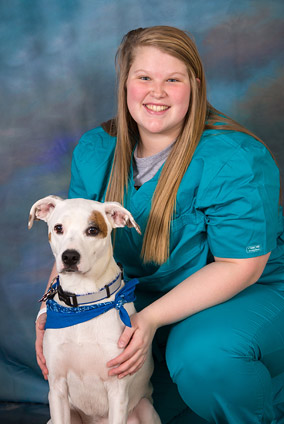 Staci Howard, Kennel Assistant
Staci joined the team at Animal Medical Center of Jefferson City in July 2012. Her main responsibilities include caring for sick and boarding animals. Staci sometimes assists in the reception area with answering phones, helping clients, checking patients in and out and setting up appointments. Staci's favorite part of the job is caring for animals that are boarding and seeing how happy they are to go home. She also loves playing with puppies.
Staci has a dilligent and dependable work ethic at the medical center and at Stephens College, where she is currently enrolled as a student. Staci says, "I like working at Animal Medical Center of Jefferson City because it is a fun work environment. I love my coworkers and bosses. They are amazing people. The relationships and responsibilities I have at the Animal Medical Center have helped me grow as a person."
At home, Staci has a menagerie of pets, including five dogs named Ace, Bandit, Coco, Meg and Smokey; five cats named Bo, Luke, Mr. Whiskers, Shoes and Socks; five ducks and a rabbit named Raspberry. Staci enjoys spending time with her friends, family and pets.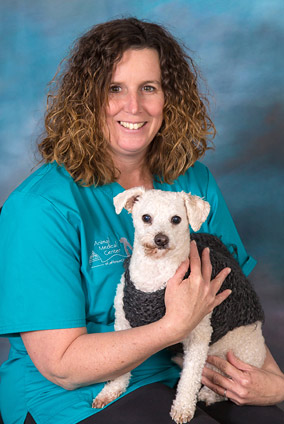 Terry Brenner, Kennel Assistant
Terry joined the kennel staff in 2008. As a kennel assistant, she is responsible for feeding and medicating the boarding pets, as well as taking dogs outside for walks. Terry's favorite part of the job is being able to play with all the boarding dogs and cats.
At home, Terry has a toy poodle named Chuck and a beagle named Dip. She enjoys spending her free time with her family.